Nestled on the picturesque coast of India, Daman beckons couples seeking a truly enchanting wedding destination.
With the rising trend of destination weddings, Daman stands out as a charming and idyllic choice. Its dreamy atmosphere, coupled with breathtaking landscapes and serene waterfronts, creates a romantic backdrop for unforgettable celebrations.
From historic venues that exude old-world charm to luxurious resorts offering modern amenities, Daman provides a perfect blend of elegance and natural beauty. Let your love story unfold amidst the captivating allure and unique experiences that Daman has to offer.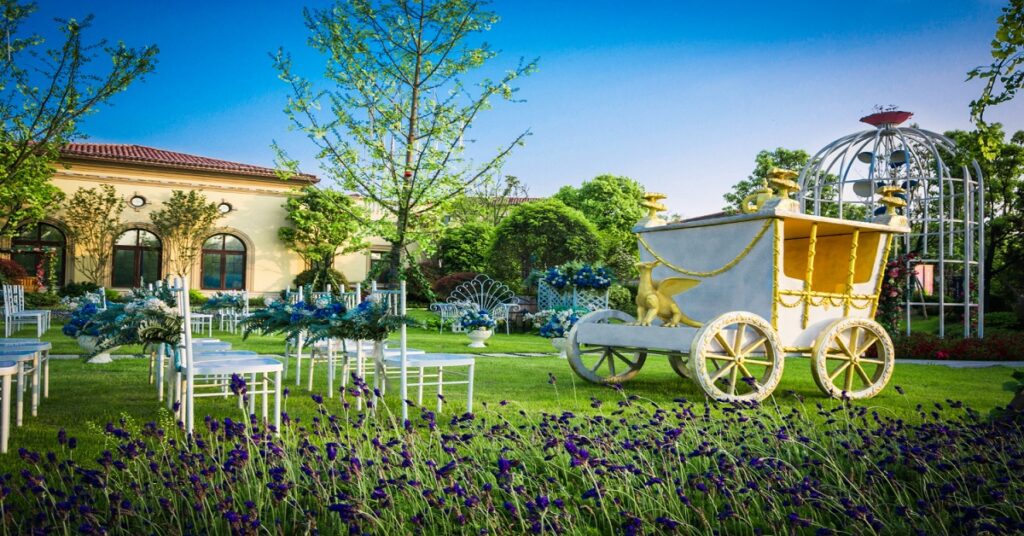 Section 1: Natural Beauty and Serene Ambiance
Discover Daman, the ideal wedding destination that seamlessly blends breathtaking beaches, serene waterfronts, and scenic landscapes.
Nestled along India's western coast, this charming city creates a magical setting for an unforgettable celebration.
Daman boasts picturesque beaches like Jampore Beach, offering golden sands stretching as far as the eye can see, and Devka Beach, with rocky outcrops and a vibrant shoreline. The Daman Ganga River weaves through the city, providing a tranquil backdrop for outdoor ceremonies and stunning photo shoots.
With pleasant temperatures year-round, Daman's tropical climate accommodates weddings in any season. Every moment in Daman feels like a fairy tale, where dreamy atmospheres and natural beauty intertwine. From the stunning beaches to the tranquil riverfronts, Daman offers a myriad of options to ensure your special day is truly extraordinary.
Choose Daman as your wedding destination and let this mesmerizing city create lifelong memories amidst breathtaking landscapes. Experience the romance, charm, and natural splendor that make Daman the perfect choice for a dreamy celebration.
Section 2: Historic Venues and Architectural Gems
Immerse yourself in the enchanting world of Daman, where history, romance, and timeless beauty come together to create the perfect backdrop for your dream wedding. Nestled along the stunning coastline of India, this hidden gem offers a treasure trove of rich heritage and cultural marvels that will leave you spellbound.
Step into the past as you explore the historical venues and architectural landmarks that Daman proudly boasts. Imagine exchanging vows within the magnificent walls of Fort Jerome, a majestic fortress that echoes tales of ancient warriors and grandeur. Or picture the grandeur of Moti Daman Fort, where time seems to stand still, providing an exquisite setting for a truly regal celebration.
For couples seeking a blend of history and romance, Daman is adorned with splendid churches like Bom Jesus Church, where the air is filled with a sense of reverence and everlasting love. These awe-inspiring venues not only offer a unique charm but also present countless photo opportunities, capturing your special moments in a picturesque frame.
As you embark on this romantic journey, Daman's dreamy atmosphere will envelop you, creating an ambiance that is nothing short of magical. The gentle sea breeze, the golden sunsets, and the tranquil beaches provide a serene escape, setting the stage for an unforgettable celebration of love.
In Daman, your wedding becomes a true fairytale, where history intertwines with your love story, and every moment is infused with beauty and wonder. Take you wedding wows in some a place that will forever hold a special place in your heart, creating memories that will be cherished for a lifetime.
Section 3: Luxurious Resorts and Wedding Venues
Daman, the coastal paradise boasts a plethora of luxurious resorts and wedding venues, each exuding its own charm and allure.
The multiple wedding resorts in Daman's with having opulent grandeur, to idyllic beachfront setting, and the captivating elegance, couples are spoilt for choice.
These venues offer breathtaking aesthetics, modern amenities, and exceptional hospitality, ensuring an unforgettable experience for every guest. Additionally, Daman presents an array of professional wedding planners and coordinators, ready to orchestrate every detail of your special day, guaranteeing a seamless celebration. Discover the magic and romance that awaits in Daman—a destination that epitomizes the perfect setting for your dreamy wedding affair.
Section 4: Cultural Experiences and Traditions
This coastal gem not only offers stunning venues but also showcases a rich cultural tapestry. Couples and their guests can partake in the festivities of local celebrations, where music and dance performances create an atmosphere of joy and merriment.
Delight your taste buds with authentic local cuisine, savoring seafood delicacies and traditional Gujarati dishes that will leave a lasting impression. As you explore Daman's bustling markets, discover unique wedding favors and souvenirs, adding a touch of local charm to your special day.
From its captivating festivals to its delectable flavors, Daman offers an unforgettable backdrop for a truly magical wedding affair making Daman, one of the favorite wedding destinations in daman for couples in India.
Section 5: Activities and Attractions for Guests
While Daman sets the stage for a dreamy wedding celebration, it also beckons guests to embark on unforgettable adventures and explore its captivating attractions.
For the thrill-seekers, indulge in exhilarating water sports, embark on boat rides along the serene coast, or traverse nature trails that unveil stunning vistas.
As mentioned above already, those seeking leisurely entertainment can visit the iconic Church of Our Lady of Remedies, enjoy a day of fun at Mirasol Water Park, or experience the excitement of Devka Amusement Park.
Encourage your guests to extend their stay and immerse themselves in the wonders of Daman, as this enchanting city offers a multitude of activities and attractions that will leave them awe-inspired.
Embrace the dreamy atmosphere and unique experiences that Daman presents, making your wedding celebration an extraordinary and unforgettable affair.
Conclusion
With its captivating natural beauty, historic venues, luxurious resorts, cultural richness, and myriad attractions, Daman stands out as an ideal choice for couples seeking an unforgettable celebration. Immerse yourself in the romantic ambiance created by the pristine beaches, serene hills, and picturesque sunsets.
Choose from a range of breathtaking venues that blend history and elegance, adding a touch of grandeur to your special day. Pamper yourself and your guests at luxurious resorts offering world-class amenities and impeccable service.
Indulge in the rich cultural experiences, relishing traditional music, dance, and cuisine. From historic forts to tranquil gardens, Daman offers a treasure trove of attractions to explore.
Consider Daman as your wedding destination and embark on a journey to create cherished memories in this mesmerizing coastal paradise.