Valencia is one of the most beautiful places which is located on the south-eastern coast of Spain. It is the 3rd largest city in Spain and many students come here to pursue education. This city is home to the University of Valencia. Due to the presence of numerous other acclaimed universities, this city attracts many students. The city has attracted a large volume of international students. this will make it difficult to find some of the best student accommodation over here.
What makes Valencia unique?
Valencia offers the students a beautiful blend of beaches, city as well as sun. the city's climate is quite amazing as you can enjoy a subtropical Mediterranean climate. It is a foodie's paradise and the birthplace of the beverage known as Orxata which is popular in different parts of the world. There are different beautiful and tranquil parks in the city so one can go to the Turia Gardens. Here you can find different playgrounds, picnic spots as well and bike paths.
Top 4 student accommodation in Valencia
Salamanca 46 Valencia
Salamanca 46 is one of the best student accommodation Valencia which is located 2.6 km away from the University of Valencia. Even the Universitat Europea de Valencia is about 2.4 km from the property. You can walk or take public transportation to reach the institutions. If you have a bike then you can easily reach there in no time. in addition to it, because these educational institutions are quite close, the students can easily blend a hard study schedule with simple access to home as they are never far from the student accommodation.
The property offers a wide range of incredible services like central heating so that you can stay warm during the cold winter months. The residence contains every necessity comprising private bathrooms as well as a kitchen. There will never be a time when you are without what you need. This magnificent property is situated in a charming city where you can find some of the interesting cafes, fantastic shopping as well as peaceful surroundings. This hip city has something for everyone. If you are Mexican then you can go to Cafecito to have some of the best Mexican cuisine. You can go to Burritos-Ribera too.
Valencia Marina Real Valencia
Valencia Marina Real is one of the student accommodations in Valencia for all the international students who pursue higher education. Not only does it make sure a stay is located near the university but also it is an eventful student life. The very renowned University of Valencia which is around 3.6 km away from here. The property offers a wide range of remarkable facilities. The apartment comes with a wide range of studio rooms that are not only equipped with private baths as well as aesthetic interiors but you can also find a kitchen with all the modern appliances. You can also find some of the common facilities so that the flatmates can have an amazing time.
The students can easily commute to the university daily as the transport accessibility is par excellence. The bus routes as well as the station are quite super-fast and well-connected across the city. The Maritim and Serradora bus stops are a few minutes walk away.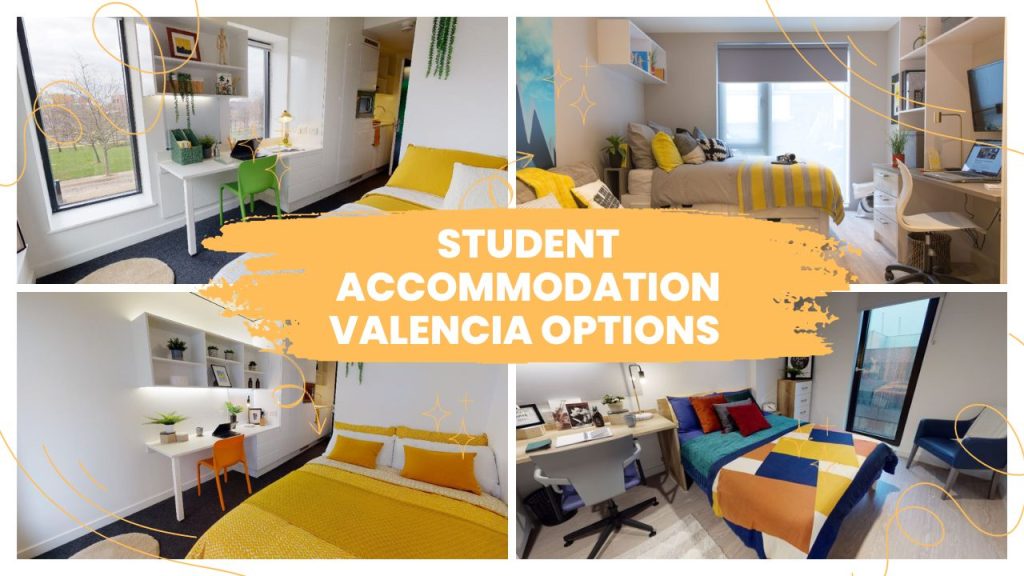 Rodriguez de Cepeda 44 Valencia
If you are an international student who travels to Spain for higher studies, Rodriguez de Cepeda is one of the best places to reside in the city. In this accommodation, you can find an infrastructure and promising curriculum offered by the nearby educational institutions to advantage everyone who lives over here. The extremely prestigious University of Valencia is situated within proximity to the property.
The area over here is vast and it is home to different renowned tourist attractions. There are different kinds of things to discover about this beautiful accommodation. The location is quite amazing. There are many restaurants like the Taj Mahal and El Miracle where you can try out some of the best cuisines. The public transport is quite convenient as well as super smooth over here. to make sure that all the students arrive on time for their daily scheduled classes as well as college activities, the area over here maintains a reliable transit system. The bus stops are only ten minutes away from the accommodation so you can travel without any difficulty.
Valencia Viveros Valencia
If you are an international student who is coming to Valencia to pursue your education, then Valencia Viveros is one of the best places to stay. The educational institutions in the area offer the students a wide range of facilities and also some of the best curricula which are advantages to everyone. Campus Valencia de Floria is situated within proximity to the accommodation. In this area, you can find some of the top-notch incredible tourist attractions. Both upscale dining establishments and renowned music venues which you can explore. While Kuzina is renowned for its traditional Greek fare if you want to try out Mexican cuisine then you can go to San Lorenzo.