Are you in need of converting your MBOX files to PST format? Look no further; this comprehensive guide will walk you through the manual methods and provide you with an efficient solution to accomplish this task.
Email applications like Mozilla Thunderbird, Apple Mail, Eudora, Netscape, Entourage, and SeaMonkey are widely used for mailing services today. These programs generate and support MBOX files to store emails in a localized manner.
On the other hand, Microsoft Outlook, a desktop-based email application, offers a secure and efficient way to manage emails, calendars, contacts, tasks, and more. Users often find Outlook to be a more suitable platform for email exchange and personal information management on local systems. Consequently, there is a need for solutions that allow users to convert MBOX to PST for seamless access to their data in Outlook.Let's proceed to explore how to export MBOX files to PST format.
Instant Solution: Use Our Intuitive Software
Before delving into the manual methods, consider using our intuitive software to convert your MBOX file to PST effortlessly. This tool ensures a seamless conversion and provides you with a Unicode PST file compatible with various Outlook versions, including 2021, 2019, 2016, 2013, 2010, 2007, and 2003.
MBOX vs. PST
MBOX:
Mailbox file.
Supported by Mozilla Thunderbird, Apple Mail, Takeout, and over 20 email clients and services.
Accessible on all platforms, including Windows, Mac, and Unix-like systems.
contains all of the emails in a mailbox, such as Inbox.
A simple text file with minimal security options.
Stores emails and attachments sequentially.
File extension ends with .mbox but can have various other variants like no-extension files and .mbx.
PST (Personal Storage Table):
Exclusive to Microsoft Outlook.
available on Mac and Windows due to Outlook's availability on these operating systems.
Contains emails, contacts, calendars, etc., and can have single or multiple mailbox data.
Secure with password protection options.
Stores multiple data types in three layers: NDB (Node Database) layer, LTP (Lists, Tables, and Properties) layer, and Messaging layer.
File extension ends with .pst.
How to Convert MBOX to PST for Free by Hand
There are two methods to export MBOX files into PST format manually. Let's go over each approach step by step.
Method 1: Free MBOX to PST Conversion
This method involves the following steps:
Save MBOX emails as EML files.
Drag and drop the moved EML files into Microsoft Outlook.
Export MBOX email messages to PST file.
Save MBOX emails as EML files as the first step.
Open the Thunderbird email client.
Right-click on any folder and choose "New Folder." Name it (e.g., "Email Messages") and click "Create Folder."
Select the emails you want to move to this new folder.
Right-click and save them as EML files to your desktop.
Step 2: Drag & Drop Moved EML Files into Microsoft Outlook
Open the folder where you saved the EML files.
Select all messages and drag them into your Microsoft Outlook folder to import them.
Step 3: Export Emails into PST File
In Outlook, go to "File" > "Open & Export" > "Import/Export" to launch the import/export wizard.
Choose "Export to a file" and click "Next."
Select "Outlook data file (.pst)" and click "Next."
Browse to the folder where you saved the EML files and click "Next."
Choose a location for the new Outlook PST file and click "Finish."
This completes the conversion of MBOX to PST using the manual method.
Method 2: Free Way to Convert MBOX into PST Manually
This method requires the following programs for a successful conversion:
Apple Mail
Eudora
Outlook Express
Microsoft Outlook
Here are the steps:
1. In Apple Mail:
Go to "File" > "Import Mailboxes."
Choose "Files in MBOX format" and click "Continue."
Locate the source MBOX file, select it, and click "Choose" > "Continue."
Follow the on-screen instructions and click "Done" to create the mailbox data.
2. In Eudora:
Rename the imported MBOX file from Apple Mail to "InboxMBOX.mbx."
Locate this file in the directory where Eudora saves its files (typically C:\Documents and Settings\user\Application Data\Qualcomm\Eudora).
Open Eudora and verify the mailbox creation by clicking on the "InboxMBOX.mbx" file.
Close Eudora for the next steps in Outlook Express.
3. In Outlook Express:
Go to "File" > "Import" > "Messages."
Choose "Eudora" and click "Next."
Locate the "InboxMBOX.mbx" file (from Eudora) and click "OK."
Follow the on-screen instructions, then click "Next," "Next," and "Finish" to import Eudora emails into Outlook Express and subsequently into Outlook.
4. In Microsoft Outlook:
To access the wizard, select "File" > "Open & Export" > "Import/Export," then click "Import and Export."
In the "Import Internet Mail and Addresses" box, choose it and then click "Next."
Click "Next" after selecting "Outlook Express 4.x, 5.x,…"
Export all emails into PST now by following Method 1's instructions.
Limitations of Manual Method
While manual methods can be effective, they have limitations, including:
Platform dependency, as they require specific email applications.
High risk of data loss during the transfer.
Not a direct approach, involving multiple applications.
Time-consuming and complex.
Best Way to Convert MBOX to PST
Consider using an automated solution like the FixVare MBOX to PST Converter for a hassle-free conversion with no risk of data loss. This tool supports MBOX files from various email clients, such as Apple Mail, Entourage, Thunderbird, and more. It's independent software that simplifies MBOX to PST conversion in just a few clicks.
Steps to Convert MBOX Files to PST:
Run FixVare MBOX to PST Converter.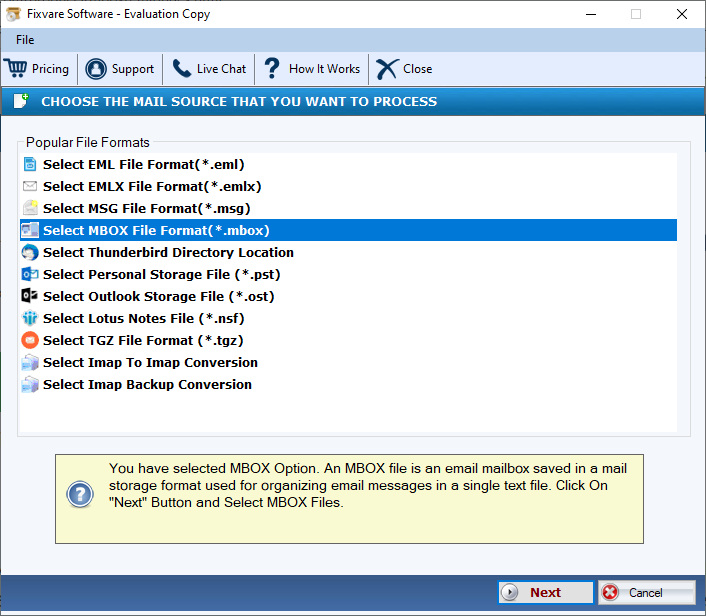 To add your MBOX file, click "Add File."
Preview all MBOX emails.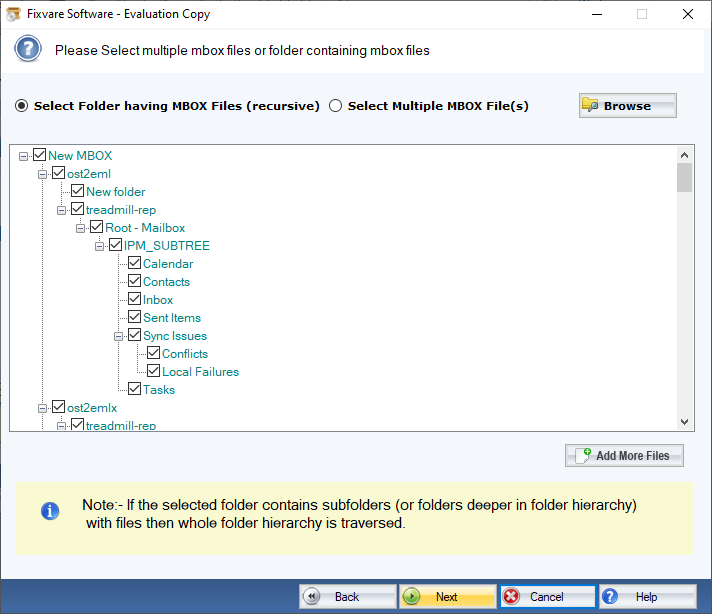 Choose PST as the saving option.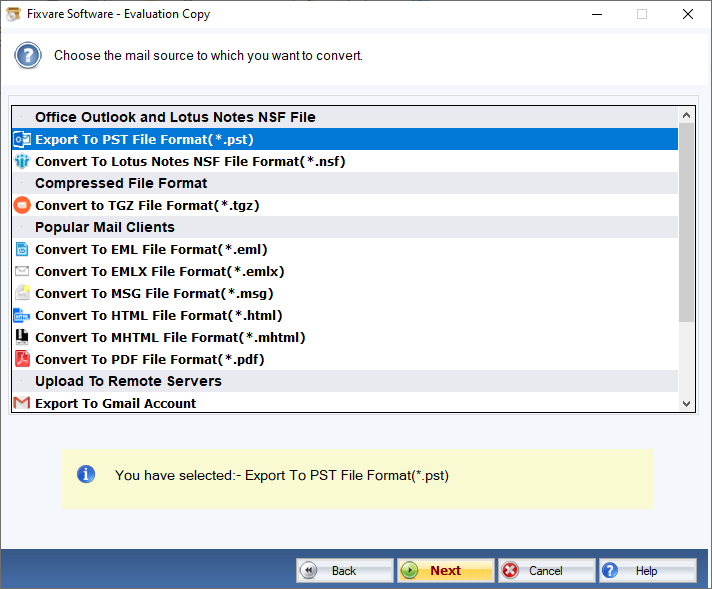 Click "Convert" to start the process.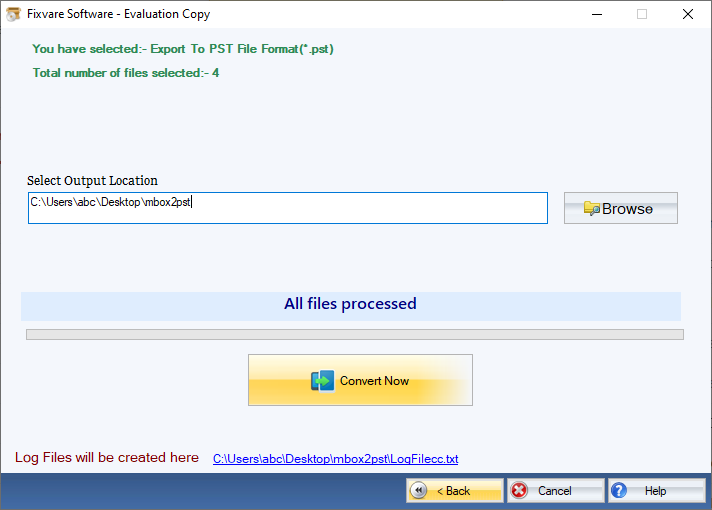 With this tool, you can convert MBOX files into PST format effortlessly. The software offers various options, such as converting multiple MBOX files into one PST. The app can work with all Windows OS versions such as; Windows 11, Windows 10 S, Windows 10, Windows 8/8.1, Windows 7, Windows Vista, Windows XP, and Windows 2000, etc. You can try the free version to convert 25 emails per folder from MBOX files and then upgrade to the full version if satisfied.
Conclusion
Converting MBOX to PST can be achieved through both manual and automated methods. While the manual methods are free but have limitations, an automated approach using the MBOX to PST Converter ensures a smooth conversion without data loss. This tool is user-friendly, supports various email clients, and simplifies the MBOX to PST conversion process. Users can choose the solution that best suits their needs for a hassle-free transition of email data into MS Outlook.