Introduction
In the digitized business landscape, the shift towards cloud-based solutions is evident. From data storage to software delivery, companies across the globe are leveraging the power of the cloud to improve efficiency, scalability, and flexibility. However, along with these benefits, the transition to the cloud also brings a unique set of security challenges, thus amplifying the demand for skilled cloud security professionals.
For those looking to make their mark in this field, Certified Cloud Security Professional (CCSP) stands as a globally recognized certification that validates their expertise in cloud security. The CCSP Online Training by Multisoft Systems is an excellent pathway to obtaining this coveted certification and becoming a proficient cloud security pro.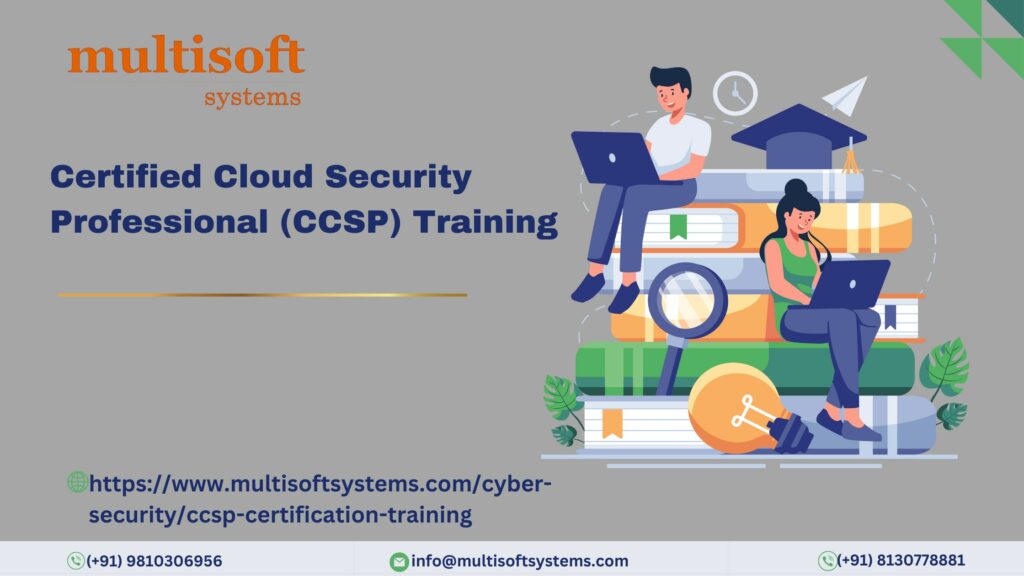 Understanding CCSP and Its Significance
CCSP, backed by (ISC)² and Cloud Security Alliance (CSA), is a leading cloud security certification. It validates an individual's deep-seated knowledge and hands-on experience in designing, managing, and securing data, applications, and infrastructure in the cloud.
Cloud security professionals with CCSP certification are highly sought-after as they bring a comprehensive understanding of cloud security and governance, legal and compliance issues, operations, and risk management to the table. They are adept at safeguarding businesses against potential threats, making them an invaluable asset to any organization venturing into the cloud.
The Journey Through CCSP Online Training
Multisoft Systems' CCSP Online Training is a meticulously designed program that takes you through the nuances of cloud security. Here's a snapshot of what this journey entails:
Comprehensive Curriculum:
The training encompasses all six domains outlined by (ISC)² and CSA for CCSP, including:
Cloud Concepts, Architecture, and Design
Cloud Data Security
Cloud Platform & Infrastructure Security
Cloud Application Security
Cloud Security Operations
Legal, Risk, and Compliance
These domains cover everything from understanding the architectural concepts of the cloud to implementing and maintaining cloud security controls.
Experienced Instructors:
The trainers at Multisoft Systems are seasoned professionals with extensive experience in cloud security. They bring their real-world insights to the training, enriching the learning experience. Through interactive sessions, they ensure that you grasp the theoretical aspects and their practical applications.
Practical Learning:
One of the key differentiators of this training is its emphasis on hands-on learning. It includes real-life scenarios and case studies that provide a practical perspective to cloud security. This approach helps you understand how the concepts learned are applied in real-world situations.
Interactive Sessions:
The online training is designed to be highly interactive, with ample opportunities for discussions and queries. The trainers are approachable and encourage active participation from all trainees. This interactive learning environment fosters better understanding and retention of concepts.
Certification Guidance:
The training not only focuses on knowledge transfer but also provides comprehensive guidance for the CCSP certification exam. This includes sample questions, exam tips, and strategies to help you ace the test.
Conclusion: Stepping into the Future with CCSP
As businesses increasingly adopt cloud technologies, the need for cloud security is bound to escalate. This trend presents a lucrative opportunity for IT professionals to specialize in cloud security and make a significant impact in the field.
The CCSP Online Training by Multisoft Systems equips you with the knowledge, skills, and confidence to take on this challenge. The comprehensive curriculum, experienced instructors, practical learning approach, and certification guidance make this training a potent pathway to becoming a cloud security pro.